Damian Nowak is a CEO at Virtkick. He's a Ruby coder, an Arch Linux hacker, and drinks good beer.
Office
I am a remote worker. Thanks to that I enjoy some unique freedoms:
see my wife and daughters all the time
listen to music from the real speakers
16°C (61°F) without others complaining
four 1920x1200 screens without others asking why
only one computer to configure, and be it a powerful desktop
Thanks to all of these I'm more productive or just feel better. :)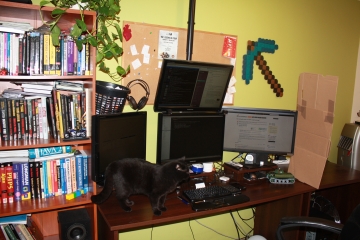 Linux
All my computers are powered by Arch Linux: desktop, laptop and Raspberry Pi. I switched from Ubuntu because it wasn't hackable enough. Full control of my system is what I desire.
I prefer being on the bleeding edge - thanks to me and other Archers Ubuntu users get well-tested drivers. ;-) These are bugs in open source drivers I reported.
I maintain several packages in Arch Linux User Repository (AUR).

Games
When I'm up for some gaming, I'll probably play a single-player FPS. Shooters I liked are BioShock, Half-Life or Portal just to name a few. But sometimes I'm in the mood for playing with real people and I always choose Battlefield.
The game I spent most my time on - 180 hours - is Fallout New Vegas. As a result I fell in love with country and bluegrass music and listen to Ranch Breakfast Show on Wyoming Public Radio every Saturday morning.
I also like simulators - from a realistic Spintires, through Euro Truck Driver, to an arcade shooter Ace Combat Assault Horizon. Used to play Live for Speed a bit when I had a racing wheel.
This is my Steam profile and this is a list of all games I played.