Damian Nowak is a CEO at Virtkick. He's a Ruby coder, an Arch Linux hacker, and drinks good beer.
Work
I am a remote worker. Thanks to that I enjoy some unique freedoms:
see my wife and three kids all the time
listen to music from the real speakers
72°F and ceiling fan always on without others complaining
three 1920x1080 screens without others asking why (I miss my 1920x1200 screens from Poland!)
only one powerful desktop computer to rule it all
Thanks to all of these I'm more productive or just feel better. :)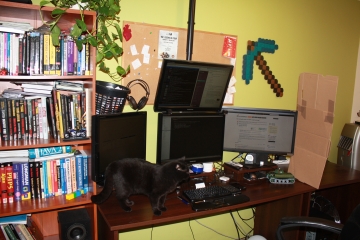 Linux
Most of my computers are powered by Arch Linux: desktop, old laptop and Raspberry Pi. I switched from Ubuntu because it wasn't hackable enough. Full control of my system is what I need.
I prefer being on the bleeding edge - thanks to me and other Archers Ubuntu users get well-tested drivers. ;-) These are bugs in open source drivers I reported.
I maintain several packages in Arch Linux User Repository (AUR).
That all being said, I confess I also have a MacBook Pro with MacOS. My previous laptop died and I had a company MBP at hand. I tried installing Arch Linux there but I encountered some hardware issues. :(

Games
When I'm up for some gaming, I'll probably play a singleplayer or multiplayer FPS. Singleplayer shooters I liked are BioShock, Half-Life, Call of Duty and Portal just to name a few. When I'm in the mood for playing with real people and I almost exclusively go for Battlefield 4 but Playerunknown's Battlegrounds is an option too.
The game franchise I love most is Fallout. I spent 180 hours playing Fallout New Vegas and I don't regret a single minute. I fell in love with country and bluegrass music due to Mojave Wasteland Radio and listen to Ranch Breakfast Show on Wyoming Public Radio every Saturday morning.
I also like simulators - from a realistic Spintires, through Euro / American Truck Driver, to arcades like Ace Combat Assault Horizon or Need for Speed. Used to play Live for Speed a bit when I had a racing wheel.
This is my Steam profile and this is a list of all games I played. And this is my Origin profile and my Battlefield 4 soldier.